Dr. Munavalli Talks All Things Avéli
The conversation around cellulite has changed over the last few years. For example, we now know that over 80% of women have it (meanwhile, only 10% of men do) and that it is not exclusively linked to obesity or lack of exercise. Luckily, in that same time, new treatments for cellulite have been developed and are providing a solution for those who have it.

The newest treatment offered at DLVSC is an exciting one: Avéli. Avéli is an FDA-approved, minimally invasive treatment for improving the appearance of mild to severe cellulite and DVLSC is one of 40 providers chosen to offer this promising procedure. We've asked Dr. Munavalli to dive deeper into what makes this treatment a great one to consider. Learn more and see additional before and after photos here.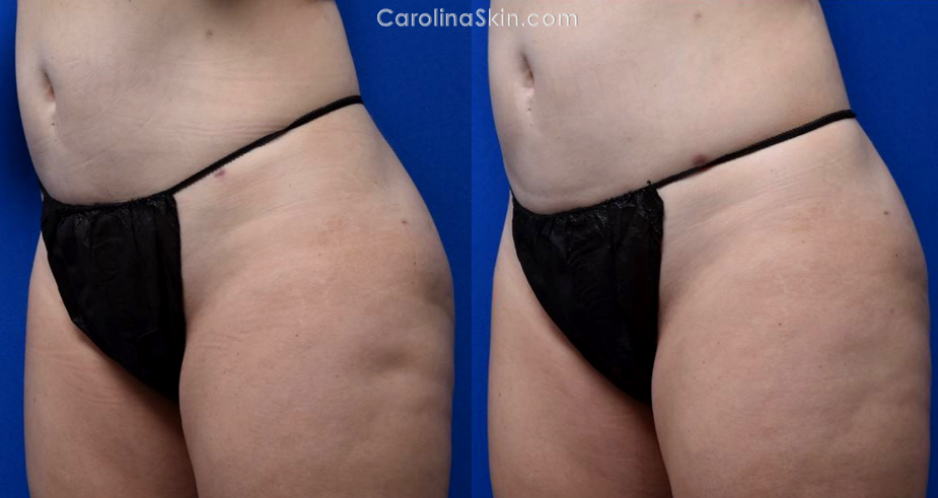 What makes Aveli different?
You may be wondering what makes Avéli the "newest and most effective treatment available" to fight cellulite? In Dr. Munavalli's words, "It most effectively gets to the root of what causes the cellulite and improves it. Also, there is tactile feedback to the surgeon as they perform the procedure and the bands are released, which helps guide the treatment and lets us know it is working."
He reported that DLVSC chose to offer this exclusive treatment to its patients because the initial evaluation showed more promise than any other cellulite treatment previously offered. Thanks to our experience with FDA approval trials and body contouring expertise, we were one of just 40 providers nationwide (and the only one in Charlotte) chosen to offer this cutting-edge treatment.
Are you the ideal candidate?
Dr. Munvalli advises that the ideal candidates for Avéli are women who are over 18 years old, who have a BMI under 25 and visible cellulite on their buttocks and lateral thighs. "The treatment works best when the patient doesn't have a lot of skin laxity. The ideal patient should also understand that while it may not completely eliminate cellulite, Avéli can improve it by about 80%!"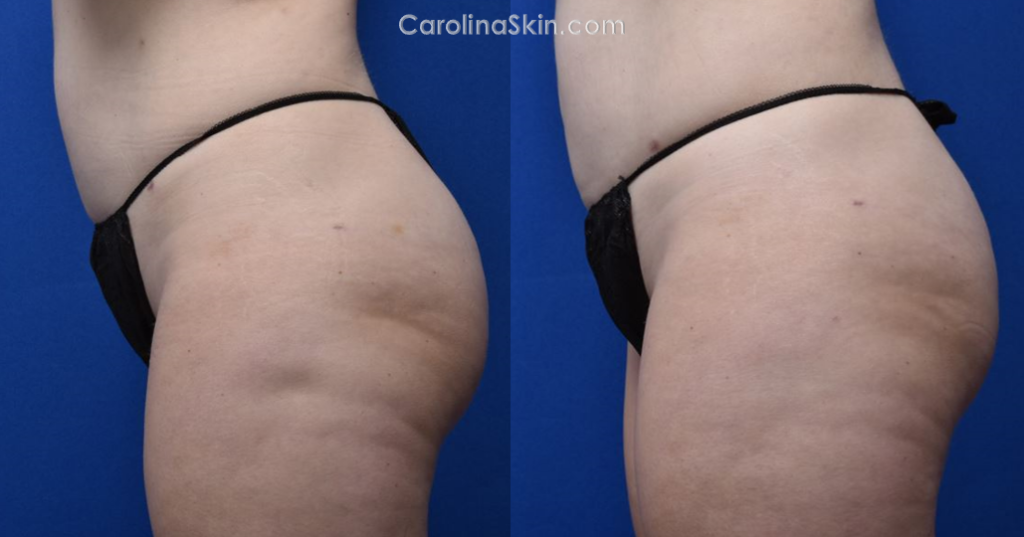 More on the actual procedure
In terms of discomfort, "this treatment was well tolerated by patients with minimal pain and discomfort, with the help of a local injectable numbing agent." And while it doesn't guarantee total cellulite removal, Dr. Munavalli added, "Avéli achieves about 80% improvement in the appearance of cellulite on the buttocks and thighs. We've seen clinical evidence of this." Recovery time is minimal, with patients able to return to work, walk and sit normally following the procedure. Dr. Munavalli does recommend taking a week off of exercise, however, to allow proper healing.

What do real patients have to say about it? The response has been very positive! One in particular told us she was "ecstatic". "She's tried other FDA-approved technology, including injectable and energy-based devices with slight improvement. However, remarkable improvement was noted from the Aveli treatment" said Dr. Munavalli.

Curious if Avéli is the answer to your cellulite woes? Call today to schedule a personalized consultation to see if this new treatment is a good fit for you.