Why do I need compression socks?
In order to go forward with treating the veins in your legs, your insurance may require you to try wearing medical-grade compression socks for at least 6-12 weeks before they will approve treatment. Our team will help you find a suitable compressions sock or stocking to wear prior to treatment. Compression socks are also an essential part of the recovery process and will be required as directed by one of our physicians. For adherence with conservative therapy, and insurance guidelines prior to treatment a 20-30mmHg (which is not as tight) knee high stocking is sufficient. Post procedure you are required to have a tighter and higher stocking: 20-30 mmHg compression, thigh high or pantyhose.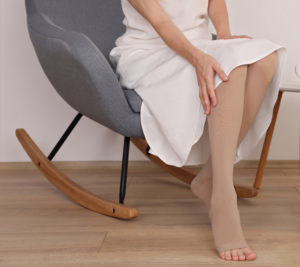 .
How do compression socks work?
Compression sock therapy is considered a non-invasive treatment that can help reduce the symptoms associated with diseased veins, such as varicose veins and spider veins. The controlled, external pressure enhances the efficiency of both the venous systems and lymphatic systems. After vein treatments or vein surgery, compression socks can help reduce pain and bruising, as well as expedite healing of the veins.
.
Is it normal for compression stockings to feel so tight?
New stockings are very tight, especially the medical compression we dispense to you. You have been sized PROPERLY for your leg measurements and we cannot dispense a size above your medical recommendation measurements. We do not recommend buying a larger size either, as this may impact the viability of treatment or recovery. Please remember it is important to break them in, such as wetting with warm water and placing over a cylindrical object to help stretch. Just like a new pair of shoes, they must be worn before they feel right. Treatment is most effective when the compression is strongest at the extremity. Thus, in compression socks, stockings or pantyhose, you may find the compression garment is tightest at the ankle.
.
How do I care for my compression stockings?
Please follow the care instructions provided with your stockings. Remember NEVER place in hot water cycle of washing machine. It is also important to always hang dry your stockings and NEVER machine dry them.
.
Any tips or advice for putting these on?
It may be helpful to use a pair of gloves, either medical or dish gloves. This helps improve grip on the stocking and prevent runs/tears. Although these stockings are made of sturdy fabric they can tear or run, please use care when putting them on and taking them off. It may also be helpful to pinch and gather and pull from bottom up, NEVER from seam of upper cuff on the stocking. Please keep in mind we do not take returns on torn stockings due to applying roughly.
.
What If I need additional stockings?
We recommend this website for purchasing hosiery if you need additional pairs before or after treatment.