Lasers, Lights & Other Devices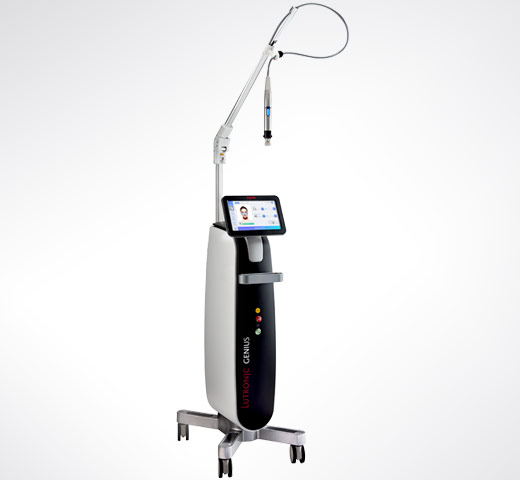 Genius
DLVSC is one of the first dermatology practices in the world to offer Genius, a "first of its kind" radiofrequency microneedling device that we use for treating
acne scars
and for skin tightening around the
jawline & neck
. In fact, Genius may be at the forefront of a whole new generation of smarter dermatology medical devices.
So, what is it exactly that makes Genius so brilliant? For starters, it gives us real-time data about your treatment
as it's being performed
. This is particularly useful as it lets the doctor know when adjustments should be made in areas of your skin that may not be receiving the maximum benefit. Common problems such as sun damage or dehydration can actually reduce your skin's ability to absorb therapeutic energy, which would result in less improvement for you. In other words, the feedback that Genius provides helps us give you even more consistent & complete results!
What is Genius treatment like?
First, we'll take photos and thoroughly cleanse your skin in preparation for the procedure. As with many of the treatments available at DLVSC, we use topical or injectable anesthetics in order to make your experience as pleasant as possible – and Genius is no different. However, the procedure itself is usually quite easy for the patient and most don't report feeling anything except pressure or a warm sensation on the skin. Depending on the size of the area being treated (cheeks only vs. full face), the procedure could take anywhere from 10 to 30 minutes. Since Genius is a non-invasive, non-surgical treatment, a series of sessions is necessary for maximum benefit.
What side effects should I expect?
As mentioned earlier, Genius helps us to deliver energy to your skin more precisely, thereby reducing the side effects. However, some mild redness & swelling should be expected with the Genius procedure, which works by creating "micro-injuries" beneath the surface of your skin. Temporary bruising, although rare, is also a potential side effect from this procedure. In any case, the impact on your daily routine will be marginal and our team will explain everything in great detail to ensure that you're prepared.
Is there any downtime after Genius treatment?
Yes, you can expect some downtime with each of your Genius treatment sessions. The amount of downtime depends on the area treated and whether or not it's part of a combination of treatments, which may be the case when treating acne scars. Generally speaking, the first 2 to 4 days post-treatment require diligent aftercare practices on your part.
MAKE AN APPOINTMENT