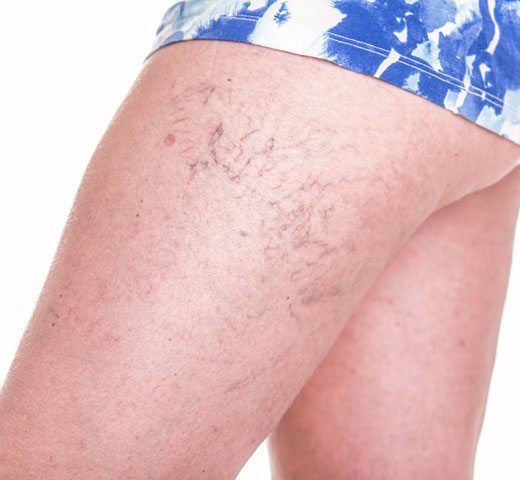 What is sclerotherapy?
Sclerotherapy is the most commonly used treatment for small diameter (5mm) veins, often referred to as spider veins or reticular veins. The procedure involves injecting a sclerosant medication into each vein with a tiny needle, thereby causing an inflammation of the vein walls. As a result, the walls collapse and stick to one another. Combined with the proper use of compression stockings after treatment, the treated vein stops carrying blood and it is re-routed it to other healthy veins nearby. Sclerotherapy typically requires multiple sessions in order to fully address the problem.
What are the possible side effects of sclerotherapy?
Possible side effects may include brown discoloration of the vein (can take 3-6 months to disappear), skin ulcers in the treatment area and allergic reactions to the medication. Fortunately, all of these potential side effects are both rare & treatable.
When will I see results? How long do they last?
If you were to watch your sclerotherapy treatment, you'd see that many of the veins will seem to fade away right before your eyes! To be sure, some of them won't come back at all, but you should expect that some of the veins
will
still be visible after your session. However, over the course of about 4 to 6 weeks almost all of these treated (but still visible) veins will eventually disappear as well. As explained earlier, typically more than one session will be needed in order to get the best results. Any veins that didn't respond to treatment the first time around will be addressed in your subsequent sessions.
The results from sclerotherapy treatment are permanent, however, they cannot prevent future spider veins from forming. Many patients opt to have touch-up treatments once every couple of years in order to maintain their results.
Does my insurance cover treatment?
Because spider veins do not pose any major health risk, insurance companies typically do not cover cosmetic sclerotherapy treatments.
How much does sclerotherapy cost?
The cost of sclerotherapy depends on several factors. For example, someone with a larger amount of spider veins would likely require several sessions. Therefore, the total cost of treatment would increase in order to achieve optimal correction of your spider veins. However, you'll be given a price quote at the time of your consultation so that you're able to plan and prepare for treatment in a way that fits within your budget.
MAKE AN APPOINTMENT