Cosmetic Concerns & Conditions We Treat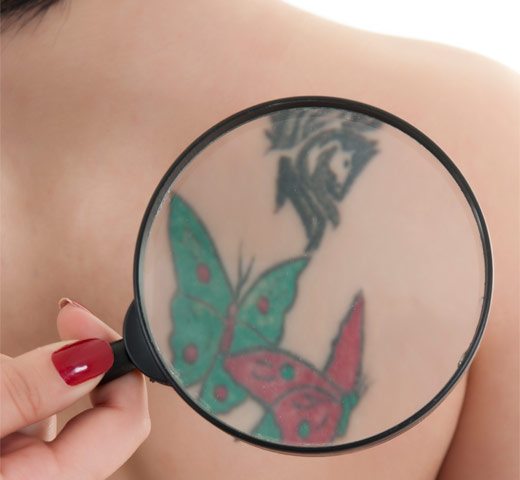 Tattoo Removal
It has been estimated that over 45 million Americans have at least one tattoo, with a growing percentage of this group reporting a desire to remove their ink.
Undoubtedly, tattoo removal is most easily done with a series of laser treatments. The reality of laser tattoo removal is that it is simply not possible to predict exactly how many treatments will be needed or if the ink can be entirely removed.
At your tattoo removal consultation, we will recommend the best laser or lasers based on several determining factors. Treatment efficacy is also contingent upon these factors, which include skin type as well as the depth, age, type & color(s) of the tattoo ink.
Laser Treatments for Unwanted Tattoos:
How many tattoo removal treatments will I need?
First of all, no one can precisely predict how many tattoo removal treatments you'll need. There are several factors that will ultimately determine the number of sessions needed and there's also a high degree of variability in the response of the ink to treatment. During your consultation, we'll assess the tattoo and your skin and give you an estimated range of sessions needed. Also, we'll discuss realistic expectations about the process and give you a price quote.
Does tattoo removal hurt?
Laser treatments for tattoos aren't nearly as painful as they're rumored to be. In fact, most people describe it as feeling like a rubber band snapping against the skin.
All that being said, everyone has a different pain tolerance and your comfort during treatment is extremely important to us! We'll use either topical numbing or injectable numbing prior to your treatments so that you feel as little discomfort as possible.
What are the side effects of tattoo removal?
Typically, the side effects from laser tattoo removal treatments are very manageable. However, you should understand that there is a potential for tenderness, swelling, blistering, scabs and redness after your sessions. These are all normal & temporary responses to treatment. Nevertheless, during your visit we'll show you how to care for your skin at home as it heals.
Lastly, there is a small chance that you could develop changes in skin pigment around the tattoo (either darkening or lightening). If this occurs, it will also usually resolve on its own, with time. For that reason, we strongly recommend that tattoo removal treatments only be performed by board-certified physicians with extensive experience performing laser treatments.
MAKE AN APPOINTMENT