Lasers, Lights & Other Devices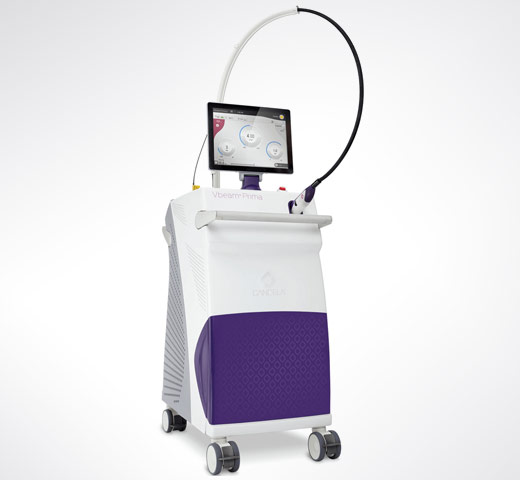 Vbeam Prima
Vbeam Prima is the newest version of the well-known Vbeam pulsed dye laser, and DLVSC is excited to be among to first practices in the United States to make it available to our patients. Similar to its predecessor, the Vbeam Prima targets common vascular skin problems such as rosacea, facial & spider veins, port-wine stains, angiomas, red or pink scars and more.
What is the difference between Vbeam and Vbeam Prima?
In short, the main differences between these two lasers have to do with technological advances. Besides the addition of a 1064nm wavelength for treating more persistent vascular lesions, there is also a second delivery system (hand piece), and larger spot sizes. All of these new features give us the ability to tailor your treatments more precisely, as well as making them faster, more comfortable and more effective.
What is Vbeam Prima treatment like?
First of all, we'll remove barriers from your skin like makeup, lotion and natural oils. Topical numbing creams actually constrict the vessels we're targeting with vascular lasers like Vbeam Prima and often hinder the laser's ability to work properly. Therefore, we'll rely on the laser's built-in cooling mechanisms of cold spray or contact cooling to make the treatment more comfortable for you. As the laser pulses energy into the skin, you may feel a temporary warm or stinging sensation. However, these sensations are easily tolerated by most patients with very little difficulty. Once your treatment is complete, we'll apply calming cream and/or sunscreen and you can resume your normal day!
What are the side effects? Should I expect any downtime?
Almost any time you have a laser procedure done, there are going to be some side effects. The intensity of these side effects and downtime will vary depending upon several factors such as the condition being treated, the size of the area being treated and/or the laser being used. That being said, the most common side effects from Vbeam Prima are mild swelling, redness and sometimes bruising. However, these are all temporary and manageable at home.
MAKE AN APPOINTMENT