Is CoolSculpting "Worth It"?
We get this question a lot–mostly from patients who have seen ads for CoolSculpting or perhaps heard about a friend of a friend of a friend who loved her results. So many patients want to know: Is CoolSculpting really worth it?
In our opinion, as the first area provider to offer CoolSculpting (dating back to 2009!), the answer is a resounding YES!
What Is CoolSculpting?
CoolSculpting is an FDA approved, non-invasive device to remove fat in select treatment areas by cryolipolysis or fat freezing.
Why do we feel so strongly about it?
The CoolSculpting device works by delivering controlled cooling to target the fat cells beneath the skin surface. During the treatment, 20 to 25% of the fat cells are frozen, crystalized and destroyed. After the treatment, your body processes, destroys and naturally eliminates these fast cells. CoolSculpting is a safe, effective way to reduce fat with long term results!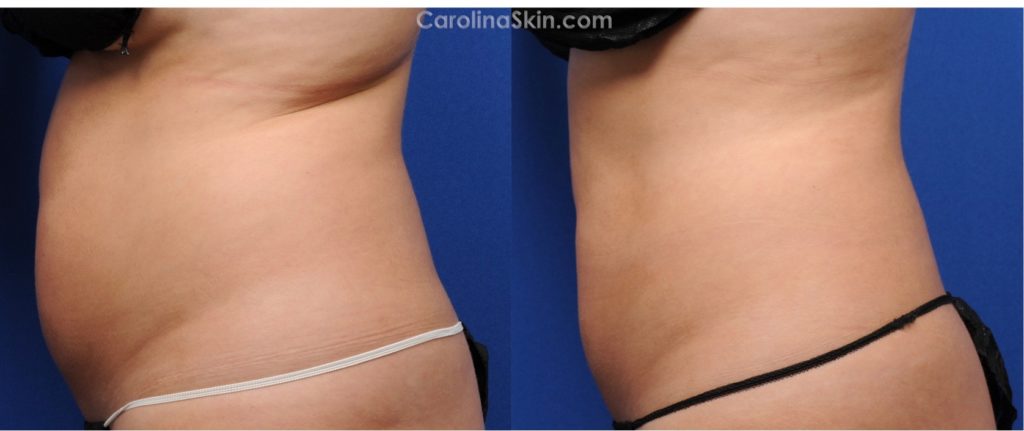 CoolSculpting is the only FDA cleared treatment to reduce stubborn fat in specific areas including the inner and outer thighs, abdomen, flanks, bra fat, upper arms, underneath buttocks, and under the chin. CoolScupting was awarded the "Best Noninvasive Fat Eliminator" by the Editors of NewBeauty Magazine in 2019.
How many treatments are typically required?
After CoolSculpting treatment there is a gradual reduction in the fat cells. You still start to see results after your first treatment in as little as 3 weeks and results will continue to improve for up to 3 months post procedure.
How much of a change will I see, after all treatments?
With each treatment you will see a 20 to 25% reduction of fat in the treated area. Each person and treatment area can vary on the number of treatments needed. During your consult, your health care provider will create a customized treatment plan for you that is tailored to your body, goals, and budget.
Is it permanent or will I have to get additional treatments?
Once the treated fat cells are gone, they are permanently gone. However, after the procedure if you gain weight the untreated fat cells can still expand as they absorb excess fat. Therefore, if you gain weight after CoolSculpting you may notice that you put on more weight in the non-treatment areas. Healthy lifestyle maintenance is key for longevity of results!
Hear from a real patient!