News Articles
By Dr. J. Blake Goslen, III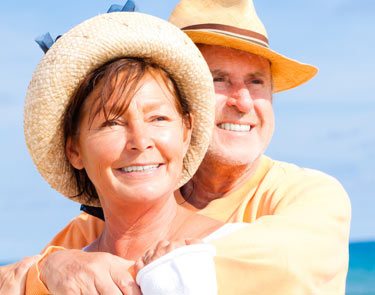 More than one third of all cancers originate in the skin. The total number of skin cancers diagnosed in the United States annually has grown from 300,000 in 1977 to an estimated one million today. During our lifetimes, skin cancer will develop in one in five of us. Scary, isn't it? Not as scary, however, as the fact the melanoma – the deadliest form of skin cancer – has increased 15 fold in the last 60 years. A child born in the year 2000 is estimated to have a lifetime risk of developing melanoma of about one in seventy five!
Sobering, isn't it? And yet, few of us take the steps necessary to lower our risk. We continue to ignore advice about suncreeens, we shudder at the thought of being "pasty white." In short, we stick our heads in the sand.
But the battle against skin cancer does not have to be insurmountable. You need master only a few basic points.
LEARN WHAT SKIN CANCER LOOKS LIKE SO YOU CAN DETECT IT EARLY.
LEARN THE PRINCIPLES OF SKIN SELF-EXAMINATION.
FIND OUT HOW TO PROTECT YOURSELF FROM THE SUN WHILE PROTECTING YOUR "IMAGE."
TYPES OF SKIN CANCER
Pretty simple, eh? Much easier than going on a diet if you ask me.
OK, so what am I looking for? Skin Cancers come in two major varieties–nonmelanoma type and melanoma. the nonmelanoma type is the most common, accounting for 95% of all skin cancers. That's a good thing because nonmelanoma (using basal cell and squamous cell carcinomas) are easier to treat and the cure rates are generally high. These usually appear as a shiny bump, a red patch or a growth with a scab over it. they are usually present on sun-exposed areas of the body. One caveat: sometimes these growths can "heal up" or at least appear healed to casual inspection, only to come back as the same place weeks or months later. This cycle is often repeated and can lead to a false sense of security on the patient's part.
Melanoma skin cancers are usually pigmented growth (although they do not have to be). They differ from normal mokes in their irregular appearance, size, shap or color. Look for different shades of tan, brown, black , blue or areas of red and white. These lesions are often bigger than the diameter of a standard pencil eraser (about 6 mm) and often have an irregular surface or a notched border. If you have a question about a mole that is changing, GET IT CHECKED FIRST; PUZZLE OVER IT LATER. Early detection is the key to a high cure rate.
HOW TO EXAMINE YOUR SKIN
Now that we know what to look for, how do we check ourselves? Dermatologists reccommend periodic skin self-examinations. These can be accomplished easily with a full-length mirror, a hand mirror and some good lighting. Systematically look at all areas of your skin–yes, ALL. Skin cancers can hide in the most unlikely of places (i.e., the sole of the foot, between the toes, in hair-bearing areas, etc). Many organizations have pamphlets that detail how to do such exams and how often to do them. Good resources include the American Academy of Dermatology (www.AAD.org) and the Skin Cancer Foundation (www.skincancer.org).
SKIN CANCER PREVENTION
Finally, What can we do to prevent these problems? Well, sun avoidance is one important factor. The sun is essential for life; but we can overdo it. Every time we get a sunburn we increase our risk of melanoma skin cancer. Every time we forget our sunscreen we increase our cumulative exposure.
First, get a broad spectrum sunscreen–one that covers both UVB (burning rays) and UVA (tanning parlors rays). Both are present in sunlight. Early sunscreens blocked just he burning rays and still allowed dangerous UVA to penetrate the skin. We didn't burn so we could stay out even longer–OOPS! Not a good thing!
The broader range sunscreens now can block both components of UV. Look for products contianing parsol 1789, zinc oxide or titanium dioxide. By the way, zinc oxide is now made in an invisible form–no more white nose! Apply your sunscreen 15 to 20 minutes prior to being in the sun. Use a SPF (sun profection factor) of 15 or more–don't be stingy. Use a higher SPF number if you tend to apply the product lightly. Make sure to check the expiration date on the product you are using. Reapply every two hours or after getting wet. DO NOT USE A TANNING BED. TO YOUR SKIN, THIS IS LIKE STANDING IN FRONT OF A FIRING SQUAD. YOU ARE SLOWLY "EXECUTING" YOUR SKIN!
TANNING WITHOUT THE SUN
Now that you know about sunscreens, you are lamenting that they will keep you pale and nobody will like or talk to you. . .yada! yada! yada! Au contraire; we now have sunless tanners. You can get a "tan" without the sun. Think you're cheating, eh? Well, your skin doesn't. It appreciates your concern! These self-applied products are a little tricky to use sometimes, but with a little trial and error, it'll be hard to tell from the real McCoy. We now have Sunless Airbrush Tanning at Dermatology, Laser & Vein Specialists of the Carolinas. We do all the work for you and it takes only a few minutes.
So that's it. Simple? Yes, in theory, but the big obstacle is changing our lifestyles and habits. This comes hard even when we know it's for our own good. We can think of all sorts of ways to change, but the best way always seems to go back to the popular phrase–Just Do It!