News Articles
By Dr. Girish S. Munavalli, MHS
ScoopCharlotte, June 24, 2015
It's true, you can tell a woman's age by the skin on her neck. The wrinkles and lines that form there are frustrating and nothing seems to help.  Until now.
Dermatology, Laser, & Vein Specialists of the Carolinas now has two of the newest in highly effective treatments for neck wrinkles and the (dreaded!) double-chin, the Infini™ and Kybella® procedures.
We asked the Medical Director and Founder of DLVSC, Dr. Munavalli to share more about this trouble area and both Infini™ and Kybella® :
Can neck wrinkles be prevented?
Prevention of neck wrinkles starts in youth.
Just as proper use of a sunscreen (every two hours, minimum of an broad spectrum, SPF 30) is important to block UV damage on the face , it is equally important on the neck.  In fact, the neck is a very neglected area and often doesn't get the same attention as the face.  It's very common later life to see a youthful face and a weathered neck.

Use Anti-aging topicals such as vitamin A, vitamin C and growth-factor creams. The earlier, the better.

Neck positioning is important.  Occupations or habits that lend to constant flexing of the neck or having the chin tipped down over long periods of time (such as typing with a laptop on the lap or reading with the book down low) can cause horizontal creases in the neck to form over time.
What is Infini™ and how will it help the appearance of my face & neck?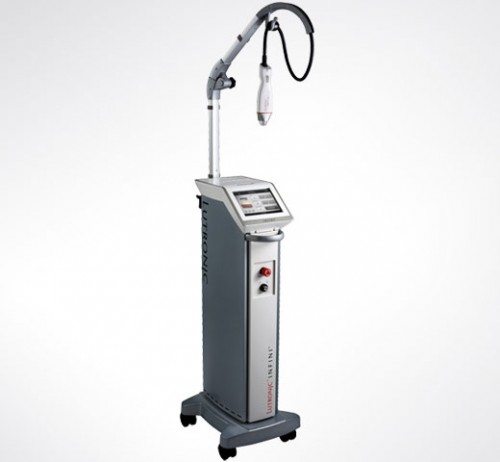 Infini™ is an FDA-approved bipolar radiofrequency device that we use for treating acne scars as well as tightening and lifting skin of the face & neck on patients of all skin types, both women and men.
When will I see results with the Infini™ treatment?
Results with the Infini™ are usually evident within 3-5 weeks after the procedure.  A total of 3 treatments, spaced 4 weeks apart are considered optimal for best results.The number of treatment sessions needed depends on both the amount and type of damage being addressed.
Infini™ treatments encourage collagen growth. Yay! How long does it keep working?
These results seem to build on themselves over a 2-3 month period and last for several years.
Could you explain the procedure?
The lower face and neck are numbed using a topical numbing cream and supplemented with a small amount of local anesthesia. Then the treatment is performed by a trained, board certified physician in our office using a specially developed technique, which was recently presented in April at the largest laser meeting in the world, ASLMS 2015. Typically, some pinpoint bleeding occurs during the treatment which is gone by the time the procedure is finished. Some residual redness lasts for 2-3 days post-procedure.
Are there any neck creams or home care that go along with treatment?
We recommend using a mild topical steroid if redness or irritation persists beyond the stated amount of time. Growth factor creams and other wound healing topical medications can be used to accelerate healing and prolong the results.

Kybella® will be available soon? Double-chin problem solved?? How exciting. When can we book an appointment?
Very exciting news. Dermatology, Laser, & Vein Specialists of the Carolinas will be the FIRST to offer the treatment in Charlotte and the surround Piedmont area. We were important contributors to the nationwide FDA Kybella trial that lead to the recent approval. In fact, one of our subjects treated in our office appeared on Good Morning America right after the FDA approval was announced. We plan to offer the treatments by mid-July so start booking those consults ASAP!
How many treatments until my double-chin is history?!
From the trials, we learned that anywhere from 3 to 5 treatments spaced monthly for optimal results.
Q: Is it permanent?
A: Yes it is…neck fat (AKA submental fullness or submental fat) does not return after it has been treated successfully by Kybella®.
Excellent neck news, I'd say.  And look at this before and after!