News Articles
By Gilly S. Munavalli, MD, MHS
Charlotte HEALTH&FITNESS magazine, May 2006
According to the American Society of Plastic Surgery, Surgical cosmetic procedures increased 4 percent, with more than 1.8 million procedures performed in 2005. The top five surgical procedures were liposuction (324,000), nose reshaping (298,000); breast augmentation (291,000), eyelid surgery (231,000), and tummy tuck (135,000). In part one of this series on Liposuction, I discussed the history of liposuction and how it works. I wasn't trying to be Dr. Cliff Clavin of Cheers fame, but it is really helpful to understand how the technique was developed. I also wanted to explain the advances over the past 15 years with this wonderful technique, which make it so popular, safe, and effective. In this article, we will discuss we will discuss patient evaluation, expectations, and what questions to ask when consulting with physicians for liposuction.
WHO IS A GOOD CANDIDATE FOR LIPOSUCTION?
A good candidate for liposuction can be any person in good health, which has realistic expectations, and is likely to be happy with the results of liposuction. Although liposuction can really improve one's figure, it will not result in the perfect body. For example, it should not be expected for a patient who weighs 145 pounds at the time of liposuction, to expect that the removal of 2 and one-half pounds of fat will allow him/her to wear clothes that fit well when they weighed 120 pounds. Preferably, one should really be within 20-30% of their ideal body weight. People who exercise and just have stubborn pockets of fat, AKA love handles, saddlebags, small stomach pouches, that the just can't seem to be rid of, are the best candidates. Patients, who are really overweight and view liposuction as a crash diet, are the worst candidates. Liposuction is not proven to be an effective treatment for obesity.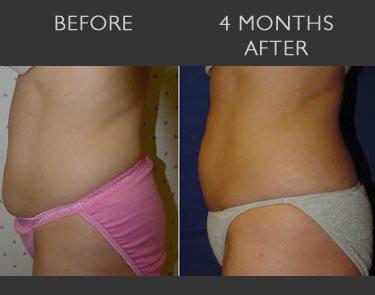 WHO IS NOT A GOOD CANDIDATE FOR LIPOSUCTION?
The bottom line is if you are not healthy, you may be at greater risks for liposuction complications than a healthy person. For example, there is an increased risk of surgical complications associated with a history of heart problems, seizure disorders, excessive bleeding, or a significant history of deep vein thrombosis (blood clots in the legs). Liposuction would not be safe to perform on someone who is taking certain drugs that may increase the risk of bleeding such as baby or full strength aspirin, Goody's Powder, non-steroidal anti-inflammatory drugs (NSAIDs), or blood thinners such as Coumadin. If you are taking certain drugs that inhibit the metabolism of lidocaine (the local anesthetic used in the tumescent technique for numbing), such as antidepressants like Prozac, then you might also be at an increased risk of drug interactions. You MUST let your doctor know ALL the medications you are taking to avoid any problems prescription strength or over-the-counter. The good news is that it is usually sufficient to discontinue certain drugs two weeks before surgery. Lastly, if your skin does not have good tone and elasticity, then you must expect there to be some degree of crepiness or a mild wrinkled appearance. However in many cases, patients with poor skin tone are satisfied with their new figure regardless of the slight wrinkled appearance of the skin.
WHAT ARE THE MOST COMMON REASONS FOR PATIENT DISSATISFACTION?
Lack of dramatic improvement is a common complaint among patients who have had liposuction performed multiple areas at the same time. If a surgeon attempts to treat too many areas on a single day using the tumescent technique, patient comfort during the procedure may be compromised. There is a limit to how much tumescent anesthetic that can be used during a given surgery, so it is best to focus on only a couple areas and have those areas be very, very numb. Also, the relative improvement of each individual area might be less than if a surgery involving many areas were divided to two or more separate procedures. So, try not to push the surgeon into doing everything at one setting. Irregularities or lack of smoothness is also a common complaint. Smooth results that look natural and even are of critical importance. The use of liposuction cannulas (the metal tube that is used to suck-out fat from beneath the skin) that have a relatively large diameter tend to produce results with more irregularities less smoothness than do smaller liposuction cannulas.
HOW IMPORTANT IS THE COST OF THE LIPOSUCTION
Decisions about liposuction should not be based solely on the cost of liposuction. The cheapest procedure might mean that the surgeon does the procedure hastily, incompletely or without the necessary skill. Liposuction is surgical procedure that resembles an art form. It is much better to base your decision to do surgery after reviewing in the surgeon's reputation, experience, and his/her ability to communicate with you in a manner that is professional, sincere, comfortable, and not rushed. Five years down the road after your liposuction, you may not remember the precise cost of the surgery, but quality of the surgical results will be with you for the rest of your life.
WHAT TYPES OF QUESTIONS SHOULD I ASK THE DOCTOR?
Definitely feel free to ask any question you have about liposuction. It is your duty as a patient to be as informed as possible. Buy a book or use the internet to gather information and then present it to the doctor. At the same time, be wary of what internet sites are claiming about liposuction. If you are confused, then ask, ask, ask! A liposuction surgeon or the surgeon's staff should be more than willing to sit with you during the consultation or afterwards on the phone to discuss any question you have about liposuction. Don't feel embarrassed to ask difficult questions about the surgeon's level of experience or about how they perform the liposuction from start to finish. If necessary, ask for a second consultation to meet face to face and clear up any problems. It is worth the time and expense to feel good about the surgery and the surgeon before undergoing the procedure.
WHAT AREAS ARE COMMONLY TREATED?
The most frequently treated areas for women are the abdomen, breasts, hips, outer thighs, anterior thighs, inner thighs, knees, arms, buttocks, cheeks and neck. In men, who account for approximately 15% to 25% of liposuction patients, the most commonly treated areas include the chin and neck area, abdomen, flanks ("love-handles"), and breasts.
WHAT HAPPENS IF I GAIN BACK MORE WEIGH?
Fat cells removed during liposuction are gone forever. New ones do not appear in the areas where they were removed. Any new pounds that are put on over time as a result of high caloric intake (eating back the weight you lost), will be stored in different areas of the body. Where the new fat is stored depends on the gender of the patient and genetics, to a certain degree. Liposuction should be thought of as a single aspect of a long-term plan, along with diet and exercise, to maintain a consistent weight and body figure over the course of one's lifetime.
 Gilly Munavalli, MD, MHS is medical director of the Goslen Aesthetic and Skin Center in Charlotte, NC. He has been performing in-office liposuction for 5 years and speaks internationally on liposuction, skin cancer surgery, and laser surgery.